How to hide dark circles under eyes with Inglot
Dark circles under eyes instantly makes you feel tired and gloomy. Even if you put your make up on but the grey circles are still visible, your effort will be in vain. Are there any make up tricks that will make your face look bright and fresh again? 'The Cream Concealer' is the answer. Inglot has surprised us with the wide range of 16 shades of this product. It doesn't matter what your skin tone is, you are bound to find the right shade.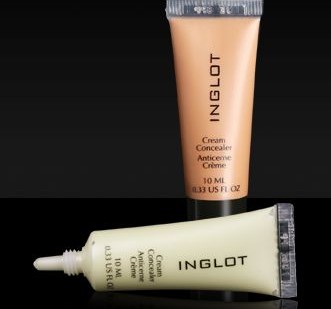 The concealer comes in a convenient, squeezy tube of fair amount of 10 ml, and it has a soft, creamy consistency. The formula is not greasy and it blends very well. 'The Cream Concealler' provides a full coverage. It is highly pigmented do you do not need a lot of product to hide imperfections. The great feature or this product is that it is buildable. It doesn't crease, stays in place and gives the matte finish, which makes it prefect for mature skin.
It seems a great product for brightening discolorations and under eye shadows. The best way to apply the concealer is to gently tap it in the skin with your fingers or with a beauty blender. If you want to cover any skin problems, like acne, use a small brush to hit directly targeted areas.
You need to remember, however, that to cover the dark eye shadows you need to use the shade as close to your foundation tone as possible. Using too light concealer will give you 'the panda' effect and your circles will be very visible.
The 'The Cream Concealer' is a must-have for any woman with skin problems.. This truly universal product that should be in any beauty bag. It covers skin imperfections, reduces dark circles under eyes and it can be used to contour the face. It sounds too perfect to be true? There is n o better way than checking for yourself.