Hair Care With Nanoil Hair Oil – My Review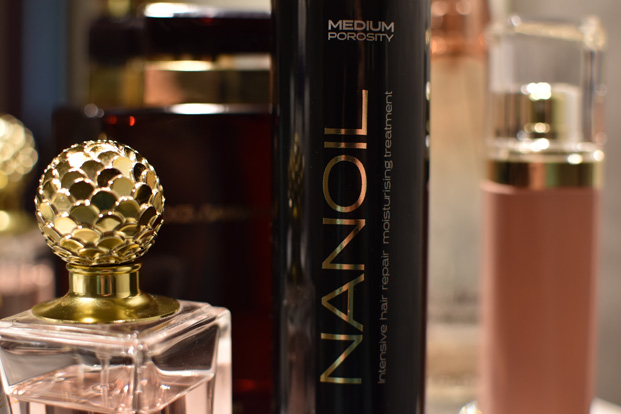 It has natural ingredients, my hair absorbs it very well, it leaves my hairdo velvety soft. Who can guess the product I'm describing? It's a newcomer – Nanoil hair oil.
I'll tell you something more about the cosmetic but first one important thing: there are three Nanoil hair oils! What does it mean? They are intended for different types of hair but it's not like in other products e.g. for dry, color-treated or damaged hair or for styling. No! Nanoil hair oil is a huge step in hair care that matches hair… porosity! You must know your hair porosity to choose one of the three oils. It's the biggest problem, mainly because consumers are still unaware of different things. We usually don't know much about our hair structure. I know from my own experience.
I learnt the porosity of my hair thanks to Nanoil. I love products that are not only effective but also give some extra benefit. In this case, Nanoil hair oils give a reason for learning about hair structure and defining the relationship between hair care and hair anatomy.
Do you know…?
Everyone has one of the three types of hair porosity: low, medium or high.
Not every oil works for all hair types.
When we choose an oil, we must pay attention to its composition, not its properties.
I also didn't know these things and that's why it was so hard for me to pick suitable hair products. Natural and innovative Nanoil hair oils replaced all cosmetics that I had been using in hair care routine. Instead of several bottles, there's one standing on my dressing table – elegant Nanoil.
Nanoil hair oil works as:
a deeply nourishing and moisturising hair mask,
a smoothing and shine-boosting hair conditioner,
a healing and concentrated hair serum,
a product for easy styling,
a cosmetic for keeping the hair fresh,
many other products!
I chose Nanoil for Medium Porosity Hair because this is my hair type. I know it thanks to a thorough analysis I made at home. You can also do a porosity test or solve one of the quizzes (there are lots of them online). I paid a regular price for a 100 ml bottle because I didn't get any discount. I think the price is neither exorbitant nor too low – Nanoil hair oil costs as much as it should.
I like Nanoil hair oil because of a few things.
1) Design. In reality, the bottle looks far better than in the photos. There's no picture that would capture the charm of the solid and intensely black bottle. I thought it was impossible to find an oil nicer than Redken Diamond Oil. Nanoil is a new dimension of elegance which totally suits my taste. It's a perfect combination of luxury and naturalness. A cork made of natural wood marked with a drop – this is what makes the product stand out.
2) Effectiveness. You may say that I get carried away but have you ever seen a hair oil that would give you so many benefits? After I bought Nanoil hair oil, I realised that other products just gave me a false impression of improved hair condition. Only Nanoils work on hair surface, inside the strands and even on the scalp. They condition and heal the hair. That's why the effects are so surprising and long-lasting.
3) Naturalness. Is there something about Nanoil that other products are deprived of? Yes, there is. Totally natural composition free from silicones and parabens. I've read lots of articles about the harmfulness of some ingredients in cosmetics so Nanoil formula really surprised me. All three versions are based on the set of 6-9 natural vegetable oils – in large amounts, cold-pressed and extracted from the best sources. There are also vitamins and nutrients included. Magic!
4) Multitasking. Obviously, I mean the method of application which isn't precisely defined by the producer. I just love products that let my creativity flourish. There are no limitations connected with the amount, time or method. Thanks to the natural ingredients, Nanoil hair oil can be applied like natural oils. No worries about the irritations. It can be applied to dry or wet hair; used for a hot oil treatment or overnight oiling; an hour before or after washing; for styling or oiling in a bowl.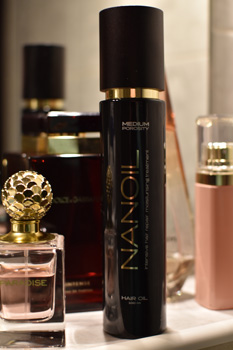 Let's go back to the ingredients. I told you they're natural but you need some more info. My version (Nanoil For Medium Porosity Hair) contains:
Argan Oil
Jojoba Oil
Coconut Oil
Macadamia Oil
Maracuja Oil
Marula Oil
Altogether the brand has used as many as 16 oils in the three versions. We can the following oils in the two other two versions: almond oil, evening primrose oil, avocado oil, cottonseed oil, cedar oil, castor oil, shea butter, babassu oil, monoi oil and cupuacu butter. My version of Nanoil for Medium Porosity Hair also includes: silk, vitamin E, vitamin A, UV filter and two innovative ingredients for hair growth and anti hair loss.
The best components lead to the effective hair care.
The formula of Nanoil hair oil is well-thought-out which is a huge advantage. It means the manufacturer takes it seriously and goes for the top-quality hair care. I like it!
The Action of Nanoil Hair Oil – the effects of the treatment.
I've been using Nanoil for Medium Porosity Hair for a month. I decided to describe my experience because the producer promises that Nanoil will make over our hair in 30 days. And it does! Soft and smooth strands are the first thing I noticed. I used to have a huge problem with frizzy hair which disappeared thanks to Nanoil. Now, my hair is easier to style, it's more voluminous and no longer static or coarse. The oil added some gloss, elasticity and stimulated the growth of new hair. It's even supposed to inhibit hair loss but I never had this kind of problem. On the other hand, dandruff started bothering me because of using a dry shampoo too often. Thanks to Nanoil hair oil, my hair doesn't get greasy so quickly, I can wash it less often and don't need to use dry shampoos. The problem with dandruff is gone.
Do you know what I like most about the oil?
I use Nanoil hair oil anytime I wash my hair. I usually apply it to wet hair. I apply even up to four portions of the oil, every two days or so… and it seems like there's the same amount left in the bottle. Its efficiency is surprising – 100 ml is enough for several months. Brief summary: Nanoil Hair Oil is simply worth buying!
30 Comments "Hair Care With Nanoil Hair Oil – My Review"
I destroyed my hair with years of clour treatments and curler using, is there any chance that these oils will help me even a bit?

In short: this oil has fixed everything hair dyes, drying, straightener and curler have damaged 🙂

Cool! Finally oil focused on given hair type!

I used many oils, Kerastese was pretty good, but none of them matched my hair. I read about those three nanoil versions and i'm starting to realize that the one for medium porosity hair would be best for me because my hair is exactly as described on the webpage 🙂

it's not for me, too greasy and too heavy

Nanoil has a bit different consistency than other oils, it is light and less greasy.

I carried on with hair oiling once and I used argan oil for it. My hair was so nice in touch and glossy afterwards. But it takes some time, especially when you have long hair. Either way I'm eager to test this Nanoil. As long as hair is thicker after the treatment….. 🙂

You should try it! I used use argan oil and it was great but I saw the difference only after I started with Nanoil. Then hair was more and it was much easier style it.

Had similar; I think that my hair is now way more "elastic" and it is easier in the mornings to tame it.

It didn't work for me! my hair is super flat :/

maybe you had wrong oil? Or you were applying too much of it???

My hair is thin so for me oil after hair wash is not an option. But I apply it in the evening and keep it on hair for an hour or so, then wash it down and have super fresh hair. Once washed and dry it is shiny and never flat.

I also have sensitive hair and all the conditioners and hairsprays only weigh it down so I use oil before washing my hair.

it works like Kerastase, only the ingredients are better, more natural extracts.

My hair is very very thick and I've not noticed any gain, but certainly the drying is much faster. I have no idea how it works 🙂 and hair is easier to style 🙂

This whole porosity is another figment to sell more products..

It is exactly the same as for the skin! For every type is different cream, toner, etc..

What matters is to choose correct one for your hair needs. 🙂

Is this really matter which oil you choose?

It has huge importance: if you will not determine it right, you will never target the problem you have with hair and will never have the effect you want. Obviously the general condition will improve, but most problems will remain.

I wasn't convinced about all the hair oils idea cause I always used light spray conditioners till my friend talked me into trying it and now at least once a week I use oil 🙂 hair is really much more beautiful than when using conditioners

Read about porosity a bit, it comes handy if you like really want to take care of your hair.

Perhaps it is good, but too expensive for me.. 🙁

the price is not low, but it is worth the investment. For me it was quite an expense too, but I have no regrets. 🙂

Perfect for the girls addicted to the straightener 🙂

I haven't tested it yet, but I know that before using a straightener or a curler you have to use some protective conditioner or you will damage your hair very bad

I am so happy that you liked my review. Write to me and share all your personal impressions 🙂

I was too lazy to go for the whole head but I used on ends and for now my problem was solved 🙂

For me equally good is Kerastase or Redken, only that this one has three versions

hey, besides parched lighten hair, I had problem with the scalp, every colorization was suffering because it felt like my skin was burning. Now, after a month of use this oil, it is no longer the problem 🙂