How to intensify your tan with ArtDeco 'Miami2014' eyeshadow stick?
Summer is one of few seasons when our tanned skin glows. How to to intensify our golden suntan? We can dust our face with the shimmering bronzer and put the eye shadows on. For hot days, however, it is better to choose creamy ones that can only emphasize the sun kissed skin.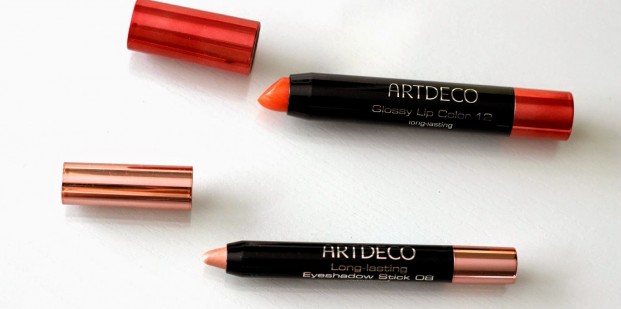 The great alternative to the standard matte eye shadows are the creamy, thick eye shadow sticks. ArtDeco has just introduced a new Miami 2014 series consisting of eight vibrant colours. You can choose from Rich Girl, Tropical Monsoon, Cool Atlantic, Cruise Ship, American Girl, City Highlight, Caribbean Coffee, and Metropolitan City.
Each colour is packed with shimmer and it shines amazing in the sunlight. ArtDeco made sure that the Miami series is water-resistant and long lasting. They have been created for those, who would like to swim in the Ocean all day long and still look fantastic. The producer guarantees 8-10 hrs. of a vibrant colour on your eyes. You do not have to apply the eye premier, as there is no way these eyeshadows crease, smudge or fade. The formula is soft and creamy and it glides on the lids effortlessly. Additionally, it is extremely buildable and blends out nicely with other eye products.
What makes this ArtDeco product amazing and the summer hit, is the fact that it is easy to apply it on the go. No need for an eye brush and forget about messy fingertips. The eye shadow comes in a jumbo retractable packaging. Take it out of the bag, twist the stick up, and apply it. Summer make-up has never been so quick and easy.