Perfectly shaped face is what we try to achieve anytime we make our make-up. How to do it like a pro? Giving our face more definition consist of two steps Highlighting and contouring. Let's start from highlighting which is all about drawing lines on your face in areas that you want to bring out.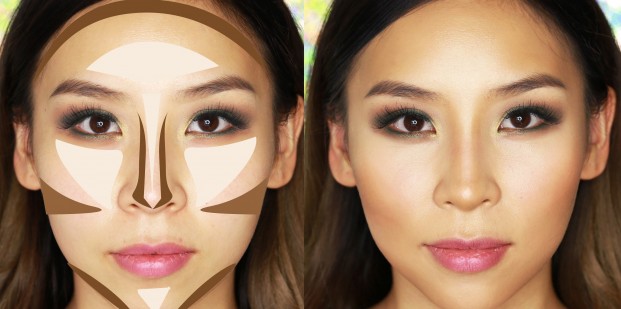 First, apply your concealer under your eyes to hide your dark circles if you have any. The salmon shade with a tint of yellow is the best to cover the grey skin without giving you the panda effect. Now to bring out a few spots on the face you will need a bright concealer or two shades lighter foundation to the one that you normally use. With the narrow make up brush draw the straight line down the bridge of your nose and bring it up to the forehead. A few lines of the concealer around the the nostrils will help diminish any redness within that area. If your forehead is small, apply more product in the middle part of it to make it look bigger. Then put the concealer on your chin and above the cheekbones. This way you make your face will appear brighter and fresh. Take the medium size make up brush and blend it into the skin with the small, round motion.
The second step is contouring. Drawing dark lines on your face brings shadows to certain areas making them look smaller and more defined. To sculpt the face, use the matte bronzer or a stick foundation 2 shades darker that your regular one and a small make up brush. Start by drawing lines around your forehead down to your hairline, across your jawline and bring it all the way to your chin and in the hollows of your cheekbones. Next, to contour your nose and to make it appear smaller and narrow, draw lines on sides of it that will be parallel to the highlighting line. Make sure that you bring the lines down to the bridge of your nose. Drawing the line under your brown bone will help to mimic the natural shadows of your face. Then take the medium size brush and blend the contouring lines with your skin and Voila!
Use the transparent setting powder to make the make-up last longer.